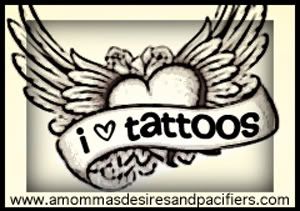 I am one addicted beeyotch to tatted up ladies and would love to be known as the "illustrated woman" one day..but not before my wedding, just don't need all that color and art in my white dress..but after i am going apeshit with tats!
Who doesn't love tattoos?
old people?
mothers?
fathers?
doctors?
Well screw them all because I think this is the BEST way of expressing yourself and also adding sex appeal to your body!
when you have those "peek-a-boo" tattoos you can not tell me that guys don't think "hmm I wonder how far that goes down" or "what's left of that tat I can't see"
Now even I want to know what is further down her back!
So my first tattoo was after my favorite animal and also the one of the very few mammals besides humans that have sex for pleasure...I guess that was the added bonus!
on my lower left hip I got a hibiscus, I guess my "reasoning" for this one was because my dad was born in Hawaii and since he paid for it without knowing I might as well make a tribute out of it right...
he didn't think it was amusing as I did
now it was time for the 3rd one
Which Raven and I got done together
on our way to the tattoo shop
Raven getting her dragonfly
me getting my butterfly
us with the tattoo artist and she was so freaking sweet!
finished product...
The I was a freaking moron and added my EX fiance's initials
There is a KDS if you can find it...that will be covered before my wedding...
Then to get my 4th which is my pride and joy
it means "older sister" in Japanese cause my cousins are Japanese and my little sister is my pride and joy!
so next to this one...this means that my sister is going to get "little sister" when she turns 18...
Don't mind the bra...hard to keep these nungas out of this picture!
this I got from a necklace that I bought from some street rapper in downtown Seattle on the waterfront...but I loved it!
ok last one...or is it....?
On my inner bicep (which are huge btw!) I have my fleur di lis! I am that much of a Saints fan i had to have them live with me forever! it was a whim tattoo but i love Zebra print so I had him incorporate that in there as well...
Now...I have 1 more...
wouldn't you like to know where it is...
well sorry I can not show it on here since Brandon won't let me put it up even though I could cover my laday parts and you could see it..but I have a teensy little writing on my umm "pants button line" that says "Thank your Lucky Stars"...you can say how slutty and whoreish that is...and if I saw that on someone I would think the same thing...but then again i totally regret it and think it is so funny the look on people's faces when they actually see it.
I'm not a hooker..just have a sick sense of humor
I will give you that little sneak peek...
Goodnight!!!